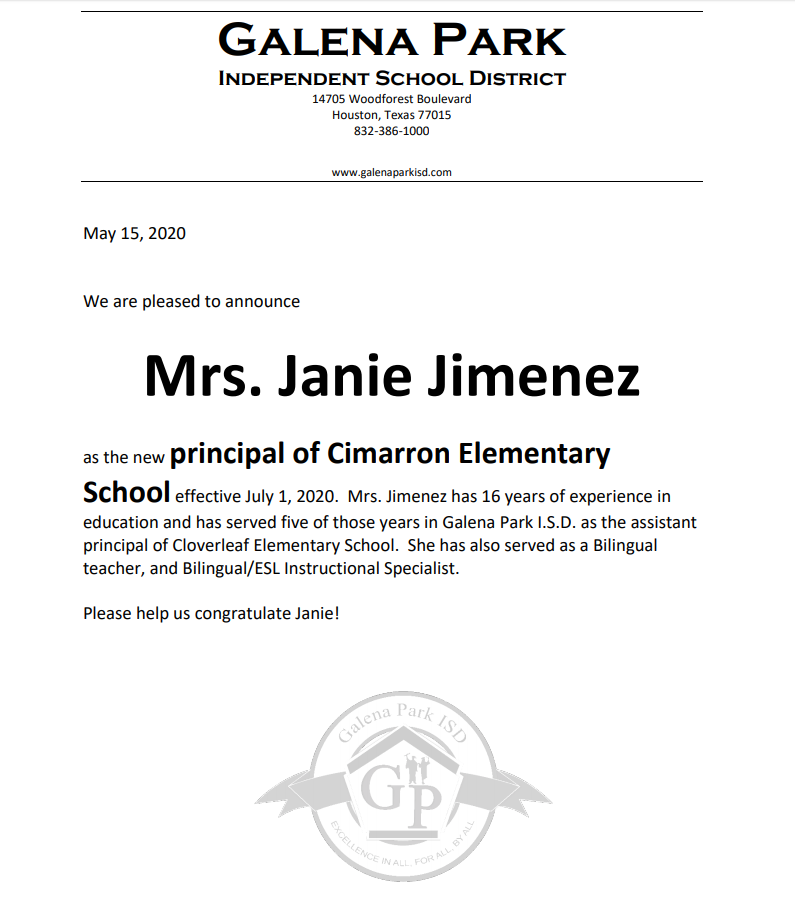 Cloverleaf Announcements
Galena Park I.S.D. is developing plans for how we will possibly reopen schools for the 2020-2021 school year based on recommendations from state and federal officials, and would like your feedback. Please take a short survey to help the District plan for next school year.

Galena Park I.S.D. is committed to providing educational resources and learning opportunities to students for the duration of this closure period. In order to ensure ALL students have equal access to the resources, we have an online option, as well as paper packets for students who do not have an electronic device or internet access readily available at home. Please find the directions for accessing the online material here.

Please take a moment to review this important message from Dr. Angi Williams. Included, you will find important information as Galena Park I.S.D. moves forward.

Galena Park I.S.D. continues to follow the guidance and recommendations of the Centers for Disease Control (CDC), Harris County Public Health Department and Harris County Office of Emergency Management concerning the recent news of the novel (new) coronavirus disease. Please note, the District is aggressively practicing social distancing and ask our school community to do the same. Families are strongly encouraged to please click here for more information.

Please click here if you want a Cloverleaf Administrator or staff member to contact you

Has your contact information changed? Haven't heard from your child's teacher? Not getting our messages?

To increase your child's readiness for kindergarten, Galena Park I.S.D. will begin to offer a full-day Pre-Kindergarten program for 4 year-old students at all campuses. A half day program is also offered for 3 year-old students at select campuses.
District Announcements
We are deeply committed to offering excellent educational experiences for our students and we want to keep you informed of upcoming events, successes and happenings in GPISD. In Galena Park ISD, our students are extremely important to us and so are you. Please enjoy this edition of a newsletter especially designed for you. Thank you for taking the time to stay connected!

As of August 26, 2018 all school districts are subject to the Commissioner's new rules regarding the removal of a disruptive person from a campus. More information regarding this new rule can be found in Chapter 37, section 37.105 of the Texas Education Code, which addresses: Unauthorized Persons, Refusal of Entry, Ejection, and Identification.

Galena Park ISD regularly provides mass notifications to parents, guardians, students, and faculty regarding weather closures, threat situations, event scheduling, or to provide other important education-related information. These messages not only drive positive educational outcomes, they can also save lives.
Cloverleaf General Information
What's New in Performance Reporting

Academic Accountability

Upcoming Releases

The full 2018 accountability data downloads will be published on the TEA website by August 30. In addition to the accountability summary data, this data download provides all data included in the 2018 accountability data tables in an Excel, comma-delimited, or tab-delimited format.

Additionally, the Accountability Ratings Domain Data Overview Report and the Distinction Designation Data Overview Report are scheduled to be posted by August 30.

Assessment Scoring and Reporting

The Student Portal has been updated with all spring results, including the June retest administrations and the optional May 2018 Algebra II and English III administration. Parents can access their child's STAAR or STAAR Alternate 2 results using a unique access code, which can be found at the bottom of their child's STAAR Report Card. (Parents can also look up their child's scores if they have their PEIMS number (SSN) and date of birth). Additionally, parents can view their child's performance relative to the campus, district, and state.

The raw score to scale score conversion tables were posted here. (These will allow you to take a child's STAAR test scale score and see what the matching percent is.)

Texas Academic Performance Report
Resources from our Counselor
School Supplies 2019-2020
CLEAR OR MESH BACKPACKS ONLY!

NO ROLLING BACKPACKS!