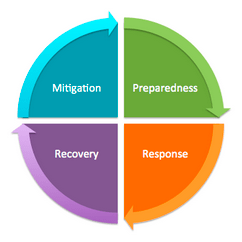 Our goal is to provide safe and secure schools where all students, staff and visitors thrive in a comfortable, welcoming environment.

---

Security vestibules or secure main entrances at our elementary schools and our newer secondary campuses.
Visitors present identification and are screened through the Raptor system.
Card access doors to provide controlled access on all facilities.
Video surveillance at all facilities. Over 1800 cameras deployed across GPISD.
Conducting safety and security audits as required by the Texas Education Code and in compliance with the Texas School Safety Center Recommendations
A school safety and security committee comprised of local stakeholders who review compliance and offer recommendations to enhance security and safety.

Multi-hazard district and campus emergency operations plans tailored to each campus' specific needs.
Drills in accordance with the Governor's Round Table recommendations and the standards of the Texas School Safety Center.
All Standard Response Protocols - Evacuation, Reverse Evacuation, Lockout-Lockdown, Shelter In Place - once each semester.
Tabletop drills are conducted at each campus.
Intruder drills are conducted at all facilities.
Coordination with federal, state and local authorities and first responders.
Participation in the Galena Park Local Emergency Planning Committee (LEPC) and the North Channel LEPC.
District and campus level emergency equipment and supplies.
Mutual-aid, inter-local and other agreements to support comprehensive emergency preparedness.

Implementation of Standard Response Protocol, e.g. Lockdown, Lockout, Evacuation, and Shelter-in-Place.
Use of Incident Command System (ICS).
All campus administrators and key district administrators trained in National Incident Management System.
Blackboard Parentlink Portal for mass notification.
Collaboration with local first responders.

Plans for the emotional and physical health of students and staff after an incident.
After-action reviews and corrective action plans are required after each drill/incident.
Continuity of operation planning to continue essential school/district functions during and after an incident.